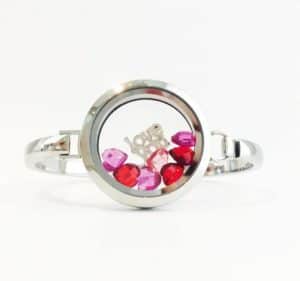 Valentine's Day Lockets
That time of year is coming up quick! The day where men of the Earth scatter and hide in fear of the burning holes in their wallets… You guessed it, it's Valentine's Day!
Consider this message a matter of sincere condolences to all the boyfriends and partners out there who are having to spend hours upon hours trying to figure out what in the world will keep you safe from what we call the 'Valentine's Beast' for another year to come.
Well in part with these condolences our LocketInn team would love to offer you a gleaming solution to overcome this week's turmoil. A gift she can wear with love and pride, a gift she can treasure for all her years to come, and a gift she'll be proud to announce YOU picked out.
Stocked with beautiful Swarovski crystal charms, LocketInn's lockets are the perfect gift for your lover this Valentine's Day. Available in necklace or bracelet form for everyday wear, your efforts will not go unnoticed. Tell her how you feel with our love charms, (we have a few proposal charms if you're game enough!) or simply build the story of your relationship with your initials, the places you've travelled together and the hobbies you share. It doesn't get much more personal than that, gents.
Lockets are available in-store or online, so seize the opportunity and don't miss out!
https://locketinn.com.au/wp-content/uploads/2017/02/Love-Gold-Locket.jpg
678
504
Leanne Aldridge
http://locketinn.com.au/wp-content/uploads/2021/07/locketinn_collections_logo3.png
Leanne Aldridge
2017-02-03 18:02:40
2019-02-26 16:56:14
Valentines Day Lockets