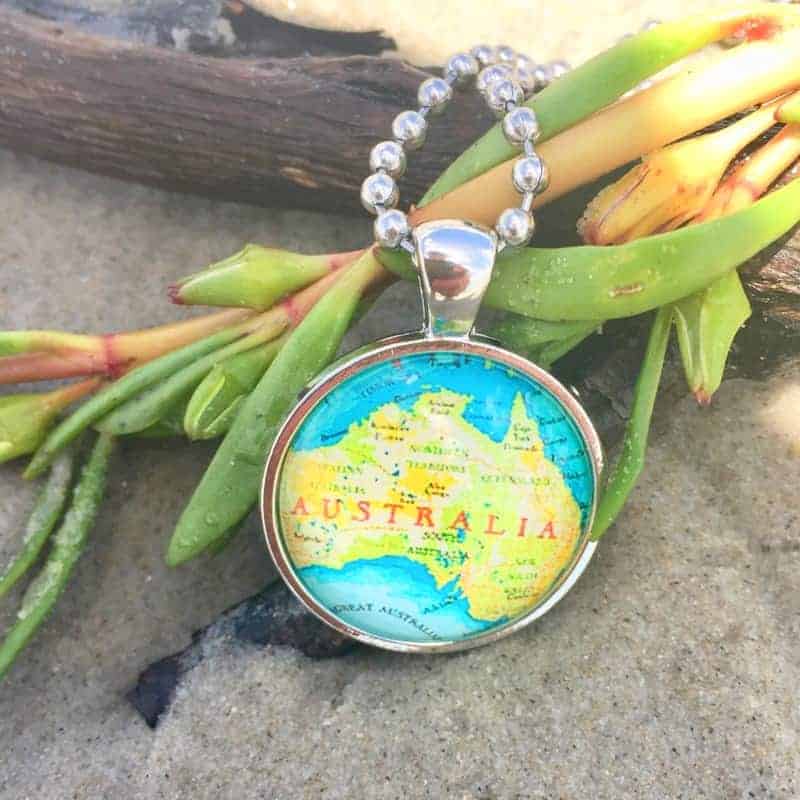 It runs through our veins, right down through the fingertips which embrace the classic Bunnings snag we all shovel down on a Sunday morning. The Aussie spirit. Some are lucky enough to be born with it, and others… well, after spending enough time in the mainland; drop bears, vegemite and Kath & Kim will all become too familiar. Being Australian means being proud of our nation and all we've achieved to date. Being grateful for all our little world has to offer us and taking things in stride. This is why Locketinn is proud to present a new jewellery piece! The Australian Map Glass Dome Pendant is THE signature piece for any proud Aussie. Not to mention, the perfect gift for a loved one overseas who cannot be physically beside you, but can harness the pendant as a bond of spirit.
Able to be fitted to any of our chain range, the way you wear your pendant is completely up to you. Will you be loud and proud with a bold, thicker chain such as our Rolo 'O' Ring? Or do you prefer the subtle, elegant look of our Snake or Lip Chain?
With a glass casing, the map pendant showcases the iconic parts of Australia we all know and love. Some will wear it to remind them of the travel ventures they still need to take, while others will wear it as a recollection of the memories already created during your Aussie travels. The gorgeous Great Barrier Reef of Far North Queensland, the cultural celebrations over Uluru Rock, or perhaps the shopping culture of Melbourne's CBD… Where do you call home?  Wherever it may be, as fellow citizens we should be happy to display symbols of Aussie pride, and Locketinn is proud to help bring that idea to life.
SO what are you waiting for?! Prove you've got that true blue Aussie spirit in ya and grab your Glass Dome Pendant here:
https://locketinn.com.au/wp-content/uploads/2018/06/australia.jpg
800
800
Leanne Aldridge
http://locketinn.com.au/wp-content/uploads/2021/07/locketinn_collections_logo3.png
Leanne Aldridge
2018-06-09 08:05:06
2019-02-26 15:14:24
Australian Jewellery